Breast Explant with Lift or Reduction Dallas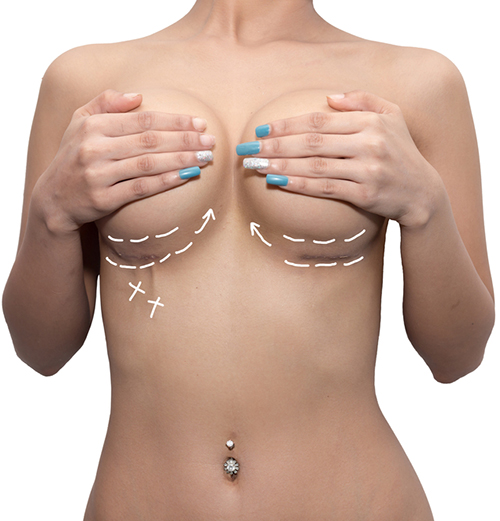 Breast explant with lift or breast explant with reduction are options for women who want to remove their breast implant while ensuring their natural breasts have an attractive and symmetrical appearance once the implants are removed. Board-certified plastic surgeon Dr. Rai offers breast explant with lift surgery in Dallas.
Procedure Overview:
The breast implant removal/capsulectomy is performed first. The scars are the same for the breast lift and breast reduction and you always get a lift at the time of a reduction.
The difference with breast reduction is that breast tissue is removed to decrease the size of the breasts. This procedure is best for patients who have gained a significant amount of weight since their augmentation or are unhappy with the heaviness of their chest.
In a breast lift, the nipple is moved to a higher position and the loose skin at the bottom of the breast is tightened up. At the same time, the breast tissue at the bottom of the breast is used to give the patient a fuller breast and try to replace some of the volume lost by the removal of the implant.
Dr. Rai utilizes a special technique called auto augmentation with his breast lifts. This surgical technique uses a patient's natural breast tissue to add volume and projection to the breast after an explant procedure.
Auto augmentation involves removing the top layer of skin from the bottom of the breast. The underlying breast tissue is kept fully intact and is pushed up under the breast to add volume and fill the breast. This allows Dr. Rai to create a more natural breast shape and to add as much natural volume to the breast as possible.
Visit Our Photo Gallery
Ideal Candidates:
Patients who no longer desire to have their implants and those that wish to remove all the capsules from their breast pocket. Patients that have loose skin on their breasts or patients who already have breast ptosis (the nipple is in a low position).
The first step to determining if you are a good candidate for breast explant with lift in Dallas is to schedule a consultation with breast explant expert and plastic surgeon Dr. Rai.
SURGICAL DETAILS:
Procedure Length: 4.5 hours
Anesthesia: General – fully asleep
Incision: Anchor incision – around the nipple up and down and in the crease
Implants: Returned to the patient
Capsules: Sent to pathology (additional testing for CD30 and other microbiology can be run as well)
Muscle Repair: Performed at the same time as the explant
Sutures used: All dissolvable
Photos of Implants and Capsules: Provided to the patient
Post-Operative Antibiotics: None
Pain: Moderate. A nerve block will be done and a 72-hour nerve block is offered (Exparel)
Drains: One drain in each breast. Typically removed between days 3 and 5
Dressings: Ace wrap until drains are removed. Can shower on the second day after surgery.
Recovery: No heavy lifting greater than 10lbs for the first several weeks. Full recovery without restrictions at 4-6 weeks
WHAT TO EXPECT
On the day of your surgery, you will arrive 30 minutes before your scheduled procedure. After the procedure, you will typically recover for 45 minutes to an hour and then be discharged home.
During your breast explant with lift recovery, you can expect to experience some bruising, swelling, and discomfort. The breasts will be bandaged until the removal of the drains. You will need to take it easy for several days and avoid heavy lifting and other strenuous activities will need to be avoided for around six weeks.
Dr. Rai has an on-call answering service and is reachable at any time should there be any questions or concerns after hours following your procedure.
FOLLOW UP:
3-5 days for drain removal
1.5 weeks for incision check
3-4 weeks for incision check
As needed after that
Cost and Payment Options
Typically, insurance does not cover procedures involving breast implants. Dr. Rai is not an in-network provider with any insurance and does not file with insurance for any surgical procedures.
The cost will vary based on the techniques used and the amount of work required to perform the procedure. Price and payment options will be discussed as a part of your consultation.
Schedule a Consultation
For more information, or to schedule a consultation for your breast explant with lift in Dallas, contact our office today to schedule a consultation with Dr. Rai.
Related Blog Posts
Frustrating Back, Neck, and Shoulder Pain May Require a Breast Reduction and Implant Removal

A breast augmentation is one of the most common cosmetic surgery procedures. In this surgery, an implant is inserted to increase the size of the breasts. Many women undergo this procedure to enlarge their breast size. Unfortunately, years after getting a breast augmentation done, some women face problems owing to their large breasts. Some of the common issues are highlighted below:…
Recovery After a Breast Lift with Explantation

If you have decided to get your breast implants removed with an explantation procedure and are pairing it with a breast lift, it is crucial to take recovery seriously. Going under the knife is a major decision to make, and it's important to follow Dr. Rai's instructions to ensure optimal recovery. Proper recovery and aftercare are of the utmost importance after surgery, and the techniques you use to recover will play a significant role in how your breasts heal.…